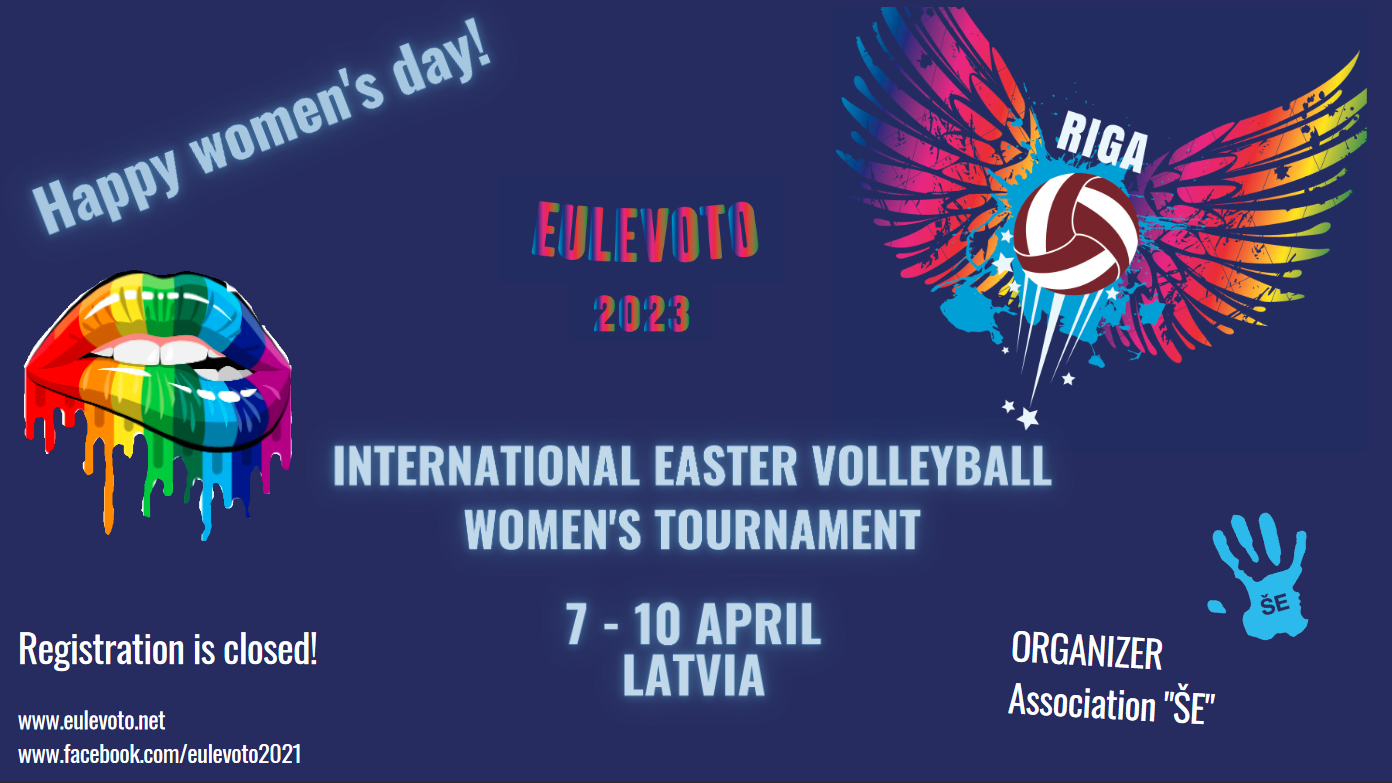 Agenda
Welcome & Registration
18.30-22.30 h
meet and greet  at the club  "Skapis"
Aristīda Briāna iela 9a, Centra rajons, Rīga, LV-1001
Tournament
09.00-18.00 h Salaspils Sports Hall
Smilšu iela 1, Salaspils, Salaspils pilsēta, LV-2121
Tournament
09.00-app. 18.00 h Salaspils Sports Hall
Smilšu iela 1, Salaspils, Salaspils pilsēta, LV-2121
After finals Award Ceremony in the party at the club "Tu jau zini kur!"
Party
21.00 h – open end
at the club "Tu jau zini kur!"
Tallinas iela 10-3, Centra rajons, Rīga, LV-1001

Brunch
10.00-14.00 h
at the "AOK City"
Stabu iela 30, Centra rajons, Rīga, LV-1011


INSCHRIJVING VOOR EULEVOTO 2023 IS GEOPEND
Beste dames,
We vernamen verschillende positieve reacties over het feit dat jullie een geweldig toernooi in Berlijn hebben gehad: met veel fun, goede vibes en positieve energie. Wat leuk om te horen !
Het is jammer dat we er niet bij waren en publiciteit konden maken voor ons eigen toernooi.
Met trots kunnen we jullie aankondigen dat het langverwachte "Eulevoto-Paastoernooi" zal plaatsvinden tussen 7 en 10 april 2023 in onze prachtige stad RIGA. Het hele Letse team kijkt ernaar uit om jullie allemaal opnieuw te ontmoeten en samen onvergetelijke momenten door te brengen.
Het Eulevoto 2023-toernooi wordt georganiseerd in een moderne sporthal die zowel binnen als buiten ruimte voor ontspanning na elke wedstrijd biedt. Alle wedstrijden zijn te bewonderen in de speciale supportersruimte. Breng gerust jullie partners en supporters mee. Hoe meer zielen hoe meer vreugd!
Helaas moeten we het aantal teams beperken tot maximaal 21.
Het zou ons helpen indien jullie ons kunnen laten weten of jullie team of teamgenoten interesse hebben om over te vliegen naar ons toernooi (ons email-adres: eulevoto2021(at)gmail.com)
Deze informatie kan ons helpen bij onze verdere berekeningen: jullie weten allemaal dat de energiekosten nog verder kunnen oplopen en we zien ons genoodzaakt om onverwachte kosten aan te rekenen.
Graag informeren wij u dat de inschrijving geopend zal zijn vanaf 05/11/22 en dat we een "early bird" inschrijving aanbieden die geldt tot 31/12/2022 om middernacht. Teams die zich voor deze datum inschrijven, kunnen van een goedkopere deelnameprijs genieten.
Vanaf 31/12/22 en tot en met 28/02/2023 zal de deelnameprijs iets hoger zijn.
In bijlage kan u het inschrijvingsformulier terugvinden (in Excel-formaat).
De inschrijvingskost omvat een "meet & greet" op vrijdagavond, twee volledige dagen sport en plezier, veel hapjes en eten tijdens het toernooi en de toegang tot ons spetterende slotfeest op zondagavond.
Voor de geïnteresseerden kan tegen een meerprijs een avondmaal worden bijbesteld. Meer details zullen nog worden gecommuniceerd.
Op maandagochtend is er, zoals gewoonlijk, een brunch. Traditionele Letse en internationale gerechten worden aangeboden voor de prijs van 20 euro.
We hebben de mogelijkheid om teams te helpen met onze "outreach"-ondersteuning (speciaal gecreëerd voor Oost-Europese teams). Teams die extra ondersteuning nodig hebben, kunnen per e-mail contact met ons opnemen.
Er zijn veel mogelijkheden in Riga om voor een prikje te overnachten, we helpen je graag om die te vinden. Ook de al bekende "hosted housing" blijft een optie. Houd er rekening mee dat het aantal "hosted housings" beperkt is.
We zullen er alles aandoen om het Eulevoto 2023 toernooi zo aangenaam en plezierig mogelijk te maken! Tot dan!
Uw Lets team "BRING IT ON "
It all began in 1989 when a group of lesbian berlin volley-ball players came up with a crazy challenge : organizing a lesbian European volley ball tournament, which was called Eulevoto (EUropean Lesbian Volley Tournament).
Thirty years later, the Eulevoto is still up and running ! Compared to the traditional international gay and lesbian events, the tournament is unique in itself as it is organized each year in a different city by a group of volunteers from that same city. The tournament is played through two days, offering different game levels, which allows everyone to get in the game. Whether you are a confirmed player or a hard-at-work beginner, you can take part in one of the major sports event of the year.
Year after year, and to name a few, Amsterdam, Brussels, London, Copenhaguen, Paris or Barcelona have already welcomed and hosted Eulevoto.
Each year the tournament gathers more and more participants. To this day, more than 17 countries have been represented: Germany, Austria, Belgium, Denmark, Spain, Finland, France, the United Kingdom, Island, Italy, Poland, the Netherlands, Czech Republic, Russia, Slovakia, Slovenia, Switzerland.