Welcome to Groningen!
Gay and lesbian sports club GOUD is happy and proud to host the next European Lesbian Volleyball Tournament (EULEVOTO). The tournament will take place in Groningen, The Netherlands from April 2nd – 5th 2010.
Of course the annual EULEVOTO Easter weekend by itself is ample of reason to visit Groningen, but this lively city in the north of the Netherlands has much more to offer!
Groningen
Groningen is the bustling capitol city of a province also going by the name Groningen. With 185.000 inhabitants, it is the eighth largest city in the Netherlands. About 25% of inhabitants study at the Hanze University Groningen or the University of Groningen, which guarantees a nice crowd in town both during weekdays and in weekends.
The Grote Markt is the central square in town and is surrounded by many pedestrian friendly streets containing shops, bars and restaurants. Groningen has some very nice architecture, of which the Martini tower on the Grote Markt is probably most famous.
Groningen is famous for several festivals, such as the Noorderslag music festival in January, the Noorderzon performing arts festival in August, and the Noorderlicht photography festival in October. Luckily during the EULEVOTO weekend we will also be treated to a typical Groningen custom: the "Bloemetjesmarkt" – best translated as flower market, which takes places annually on Good Friday (the Friday before Easter). On this day our city center changes into one large flowerbed, attracting many flower-fond locals and tourists. Should you be able to, it is well worth arriving a bit early on April 2nd to enjoy the flowers and atmosphere, and perhaps buy some nice tulip bulbs as a souvenir.
Gay nightlife can be experienced in one of several gay and lesbians bars (e.g. El Rubio, Gay bar dancing Golden Arm, Towanda, Viva la Diva) or one of the gay-friendly bars (e.g. Drie Uiltjes, Bar Bubbles).
Additional information about Groningen can be found on http://toerisme.groningen.nl/english.
Parking in Groningen
Groningen has a very attractive historical centre, wich certainly contributes to the charm of the city. It also requires caution with regard to the traffic allowed, wich is why cars are kept out of the centre where possible. If you decide to travel to Groningen by car it's good to realize that parking in the city centre and surrounding areas costs around €1,50 per hour. However, P&R areas are available along all major roads entering Groningen. For only €2,- you can park as long as necessary and take the bus with a maximum of five persons. For an overview of the indoor car parks and the P&R area close to the city centre take a look at the following document:
GHLSV GOUD Groningen

GHLSV GOUD GRONINGEN was founded in 1996 as a gay and lesbian sports club preparing for the gay games in Amsterdam in 1998. Sports are volleyball and badminton. We are affiliated with Zwemgoud, a swimming club and we have a connection with a lesbian hiking club. Having fun whilst sporting is as important to us as respect for each other. All levels and ages are represented in our teams.
The female volleyball section, your host in 2010, consists of 25 members divided over three recreational teams. We train once a week and participate in local competition, national and international gay tournaments. Together with the male volleyball section we annually organize the Spring Volleyball Tournament which welcomes national and international male and female teams. So if you are infatuated with Groningen after the Easter tournament, you can relive this moment every spring. For more information, check our website: www.goudgroningen.nl.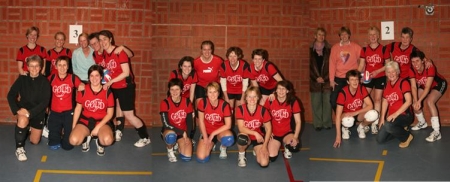 With support of
Goud
The gay and lesbian sports club from Groningen.
www.goudgroningen.nl

&zo
The place to be in Groningen where you can have a meal, drink, dance &zo.
www.n-zo.nl

Towanda
The women's pub in Groningen.
Address: Paterswoldseweg 5.
http://www.vrouwencafe-towanda.nl/

The Ugly Duck
A nice and cosy pub serving tasty meals.
http://www.ugly-duck.eu/
Women only
Women only Sunday Lounge is an unique concept in Groningen, with every first Sunday of the month a lounge party for and by women only, set at a beautiful location (Pand48) in the centre of the city.
TAPAS, TALK & DANCE are the keywords for the best Sunday lounge afternoons you've ever experienced!
www.women-only.biz